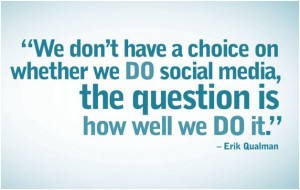 The Largest Online Social Selling Event on the Planet Kicks Off Next Week!
The Largest Online Social Selling Event on the Planet Kicks Off Next Week
The top experts on the topic of Social Selling will share their secrets in a very insightful series of online presentations at The Social Selling Summit, January 29, 2015 (www.socialsellingevent.com). The event will also welcome more than 3,000 attendees looking for Social Selling practical advice, strategic insights, and inspiration.
Confirmed speakers include:
Grant Cardone, NY Times Best-Selling Author, International Sales Trainer
Koka Sexton, Global Sr. Social Marketing Manager at LinkedIn
Jill Rowley, Social Selling Evangelist
Jamie Shanks, CEO at Sales for Life, Social Selling Guru
Chad Burmeister, VP of Sales & Marketing, ConnectAndSell
Mark Roberge, Chief Revenue Officer at Hubspot
Mark Newman, CEO & Founder at Hirevue
Julio Viskovich, VP of Marketing rFactr
Gabe Villamizar, Social Audience Development at HireVue
Jim Keenan, President at A Sales Guy Inc., Top Sales Influencer
Ken Krogue, Inside Sales Evangelist at InsideSales.com
Melonie Dodaro, Social Selling Expert, Author of The LinkedIn Code
Sean Burke, CEO at KiteDesk
Jeff Zelaya, Head of Sales at Triblio
Matt Heinz, President at Heinz Marketing
Barbara Giamanco, Social Selling Speaker, Best Selling Author
Gerhard Gschwandtner, CEO at Selling Power Magazine
Jon Ferrara, CEO at Nimble, Founder of Goldmine
Oh, and did we mention the event is totally free for participants?
Register for the event: http://bit.ly/1COSwkP
Attendees entering the online expo center will be given the option to watch live sessions in which the attendees can learn actionable Social Selling tips, strategic advice for managers, and way to improve sales and marketing alignment.
More than 3,000 sales reps, marketers, C-level executives, and business leaders are expected to attend.
Follow #SocialSelling on Twitter and Google+ to join in on the live conversation.