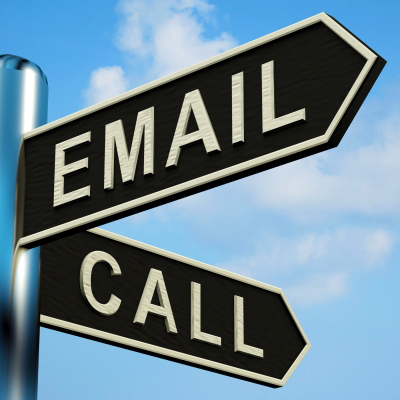 You've seen the opposite of this title all over the web. With the rise in use of social media, and especially LinkedIn, you can easily believe cold-calling has no place in modern sales.
But that couldn't be farther from the truth!
Even though inbound marketing gets all the time in the spotlight, cold-calling still works. It's just that, nowadays, you should use a number of marketing methods, and cold-calling is one of them.
For example, S. Anthony Iannarino says:
"But it is criminal negligence to suggest to salespeople that they no longer need to make cold calls (or pick up the telephone)."
He goes on to make the point that while many believe only in inbound marketing, it should be viewed as one of many marketing/sales tactics, alongside cold-calling.
But what happens if your inbound marketing techniques stop working for a while? What if that "incredible" white paper you create doesn't get downloaded as much as you had hoped?
Often, things just don't work as you expect them to. That's why balance is king. When one method dries up and stops working for a while, you move on to another.
The Truth about Why Your Cold-Calling Isn't Working…
If you make a lot of cold calls at your company, but you just don't see the sales results you want, you could be doing a ton of things wrong. A few reasons why this happens come to mind:
You don't have a quality list of prospects
You're not creating value in your sales calls
The sales team doesn't have thorough training
You're ramming through the process too quickly and not focusing enough on prospect's needs
Your offer isn't that alluring
YOU DON'T HAVE Sales Acceleration Technology!
There's a number of other reasons too, but that's the short list.
How to Make Cold-Calling Work in the Modern Age
By addressing those problems, you can certainly get better results from your cold-calling efforts.
However, sales acceleration technology takes your current results and drives them through the roof. What if you could:
Make 562+ dials per day per rep with Sales Acceleration Technology
Talk to prospects every 2-3 minutes
Continuously dial leads until you get them on the phone
Have 567 conversations (or more) per month
Get an extra $1 million per year in revenue per sales rep
These aren't theoretical statistics. In fact, members of our internal sales team, and our clients, have experienced these results firsthand.
To get them, they use ConnectAndSell, a cloud-based sales automation technology that uses a network of agents to make dials and navigate IVRs. Your sales team spends the most time doing what they do best – talking and selling to prospects.