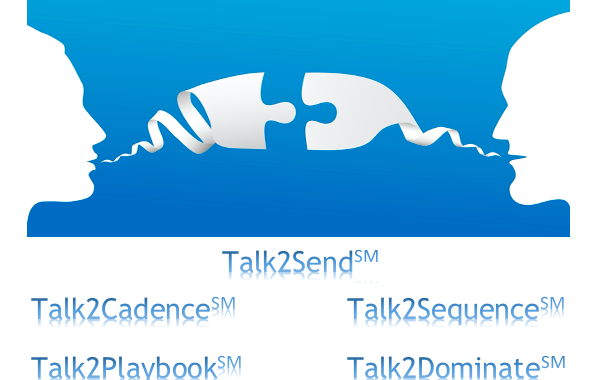 Adopting a "conversation first" go-to-market strategy is more than just cold calling. The concept is simple: Instead of merely sending email after email, hoping your sequence, cadence, or clever subject lines will rise above the digital noise, use ConnectAndSell Lightning to start relationships with a human-to-human conversation.
Conversations create relationships. And when you send an email to someone within a relationship, they are 14 times more likely to open and act on that email. The same goes for LinkedIn invitations and messages. It's simple: Talk in order to amplify the impact of what you send.
At ConnectAndSell, we call this Talk2Send℠. Make your digital campaigns come to life by starting with human-to-human conversations.
Each ConnectAndSell integration comes bundled with consulting services that ensure that you get the most out of your investment in digital prospecting, whether you are using Outreach, Salesloft, Salesforce HVS, LinkedIn Sales Navigator, Hubspot, Outreach, or Gmail.
Talk2Send℠ can range from simple email follow-up to sophisticated use of Outreach Sequences (Talk2Sequence℠), Salesloft Cadences (Talk2Cadence℠), InsideSales.com Playbooks (Talk2Playbook℠), or any digital prospecting platform.
Put it all together with ConnectAndSell's patented closed-loop calling process, adaptive list management, conversation optimization, and coaching support, and you get Talk2Dominate℠ — a comprehensive program for market dominance. To learn more, check out our podcast series at MarketDominanceGuys.com