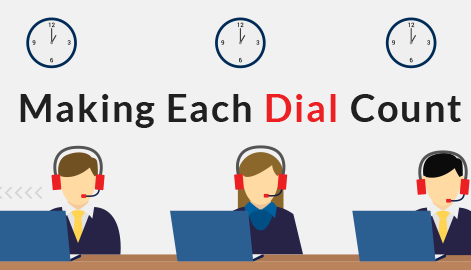 The Lunch Where It All Began
I joined ConnectAndSell 3 years ago. Six months prior to that Chris Beall and I were catching up as usual at Mint Leaf Cuisine in downtown Saratoga. He was telling me how ConnectAndSell solved the #1 challenge in B2B sales: getting hard to reach decision makers on the phone.
When prospecting it takes 22 dial attempts that either go straight to voicemail, a gatekeeper or dial by name directory and even when you do get someone on the phone in most cases they tell you they are not the right person, or they do not have the budget or that timing isn't right.
This explains why 80% of sales happen after the 5th meaningful touchwith a prospect and also perhaps why most sales reps miss quota – you would have to possess magical Jedi powers of persuasion and an inordinate amount of luck to beat the odds and catch just the right person just when they are ready to buy.
I asked how long the company had been around and who the clients were and the history and other routine stuff. It had all the usual elements – defensible IP (our moat is here: 8,649,500 B1) and complexity I thrive on – patented technology, scale (65,000,000 dials and counting after all is no small feat), integrations (CRM and marketing automation systems), big data analytics (we collect immense amounts of phone number data at an unbelievable pace).
But something was amiss. As I walked home I wondered why ConnectAndSell had not taken over the world already.
The A-ha Moment
So I shrugged it off but Chris and I kept in touch. He urged I meet Shawn McLaren, the crazy founder and eventually I did (thank the stars for that).
Suddenly it all became very clear. Conventional sales wisdom dictates that decision makers are hard to get on the phone and follow up with. Here was a breakthrough that required the world's revenue systems to be redesigned from the ground up around exactly the opposite premise: decision makers are not hard but easy to get on the phone and follow up with if you have ConnectAndSell.
It takes a while though to initiate such a paradigm shift in thinking and Shawn McLaren had just begun. He walked me through a long list of visionaries who had availed the unfair advantage offered by ConnectAndSell (that list has grown threefold now – THANK YOU to those reading this). My skepticism instantly turned into uncontrolled excitement – I was being given the rare chance to take a groundbreaking technology mainstream. How could I resist?
Chris and I met at the Basin (we love downtown Saratoga restaurants) soon after and shook hands over my signed offer letter.
The Journey Of A Thousand Dials A Day
I lost no time in getting heads down with the "lots of work" part. The solution lacked key elements of the whole product (thank Geoffrey Moore for that brilliant concept!) around list and rep management and messaging.
For list issues we now have a suite of products – List Intelligence that helps clients build very targeted lists based on ideal buyer profile and a variety of signals – hiring, technology use etc. Our partnerships with leading data vendors and many other providers has allowed us to fill this burning need and given our client base reason to cheer with joy.
The next big challenge to tackle was rep effectiveness. We needed to make follow ups mindless and integrate deeper into CRM and marketing automation systems to extract and expose key intelligence captured by marketing. I filled that void in a hurry.
Today any field any object and any workflow that you have is seamlessly available within ConnectAndSell after a quick 5-10 minute configuration , not a lengthy customization. We now provide reps with pretty much have all they need to have an effective conversation.
We also invested significantly in our infrastructure to increase our tolerance for poor telecommunication links between client premises and our data center. We have always had a simple closed loop calling process that eliminates data entry for reps so with these other changes that became even more effective.
The other key element of rep effectiveness – Coaching – is now seamless with ConnectAndSell. With our anytime, anywhere mobile app leaders can coach reps with as little as 10 minutes per rep per week of time investment. The key to successful coaching is ongoing effective feedback and cross rep best practice sharing.
The big break came when we launched our appointment setting service – OutboundOnDemand, which was driven by consistent feedback across our client base – they wanted us to share best practices on how to design their sales process with ConnectAndSell as the foundation and what better way to do it than use it ourselves at scale.
While we have a big team running campaigns for multiple clients I quickly realized how even in a modest 5-10 member SDR team it is impossible to detect and address list management and coaching challenges that are far too common and ongoing. We recently added real time alerts to identify and address these in a hurry. With the sophistication came the endless possibilities – our platform enabled our reps to routinely make 1000 dials a day AND have fun while at it.
The comprehensive learnings are now a part of our proprietary Sales Velocity Framework that our customer success team consultatively tailors to each client situation and need – for no extra fee! Clients are embracing it with such great enthusiasm it is very gratifying – many fans who have been with us for long tell us ConnectAndSell is almost a different company now.
It is also quite gratifying to see Forbes recently recognize us as one of the top 10 innovative companies to watch in 2016. There is still a lot of work to be done to help sales and marketing leaders manage the rep talent spread and improve yields continuously. I wake up more excited each day doing what I love – making each dial count!