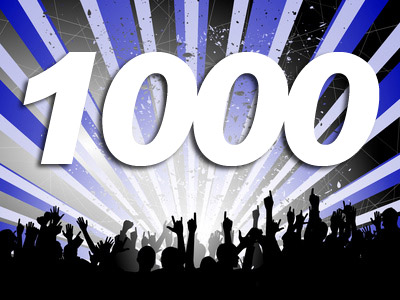 1,000 Dials/Day Is The New "100" in Lead Generation
As a 20+ year sales veteran, I never thought I'd see the day when 1,000 dials became the new 100.
In "The Pursuit of Happiness", Will Smith plays the role of Chris Gardner, who would hammer out 100 (or more) dials per day to sell stocks.
In "The Boiler Room", Seth Davis played bye Giovanni Ribisi calls people at home, and at work to convince to invest in companies that are not even in existence, and cashes in on the "spread". In the 80's and 90's these traders would drive more than 100 dials in a day.
In the new millenium, the "Millennials" took outbound calling to a new level by consistently making 100 (or more) dials per day in B2B sales for companies like Oracle, IBM, SAP, and hundreds of SaaS start-ups. Trish Bertuzzi, The Bridge Group, shares more about this trend here.
These Millennials general enjoy a structured environment, and are looking for a way to enjoy what they do in their work, and LEARN & GROW THEIR CAREERS. This blog post by one of the ConnectAndSell Reps shares more about why she enjoys having more sales conversations. Another Millennial posts here about how they enjoyed making 7,962 dials in < 6 business days!
In the 1831, the Reaper was invented in the farming industry. Over the ensuing years, farmers became so much more productive that the industry was completely transformed.
The Reaper in 1831 transformed farming, ConnectAndSell OutboundOnDemand changes Lead Generation forever in 2015!
Here's the math of what ConnectAndSell means to Lead Generation:
A Lead Gen Rep using manual dialing drives

100 dials/day

(compared to 1,000 dials/day for a Lead Gen Rep using ConnnectAndSell).
A Lead Gen Rep generally makes $50,000 – $100,000/year, whether they use ConnectAndSell (OR NOT).
The COST PER DIAL with

vs. without ConnectAndSell:

With ConnectAndSell – $1.00 – $1.50/Dial
Without ConnectAndSell – $4 – $8/Dial
The introduction of OutboundOnDemand brings liquidity to the biggest disruption in selling in the past 200 years. What used to take a Lead Gen Rep 10 days to deliver, now takes just 1 day! In other words, 1 Lead Gen Rep can deliver 1 year of dials, conversations, and meetings in 1 month!
7 out of 8 companies who learn about ConnectAndSell OutboundOnDemand sign up to Test Drive the solution. Email info@s16309.p20.sites.pressdns.com to learn more.