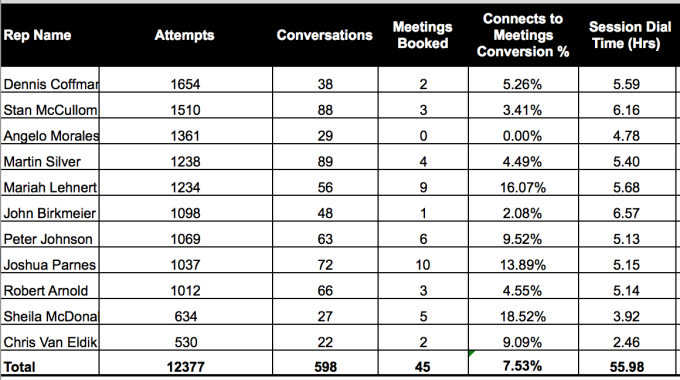 What's better? 50 Manual Dials or 50 Sales Conversations/day
ConnectAndSell OutboundOnDemand Inside Sales Representatives, driving the same level of dials/conversations as an equivalent inside sales team of 260 people, comment on whether they would rather make 50 manual conversations (according to the Bridge Group, 47.5 dials/day is what an average Sales Development Representative will make), or have 50 or more sales conversations. The results may surprise you!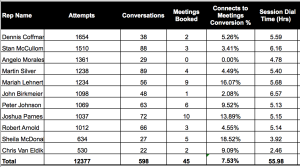 If you look at the daily dashboard of the ConnectAndSell OutboundOnDemand team from Friday, July 17, you might think that the numbers represent an entire month of calling efforts. And you might also think that at these kinds of numbers could burn out a Sales Development Representative or Inside Sales Representative. What if you found out that these numbers DON'T burn out Inside Sales Professionals, and in fact Inside Sales Professionals actually prefer 50 conversations over 50 dials in a day?
Here are some of the responses by the OutboundOnDemand Inside Sales Team when asked, "do you prefer 50 manual dials, or 50 sales conversations in a day?"
"I prefer 50 conversations/day vs 50 manual dials. When it comes to prospecting, you don't always get the right decision maker on the phone… So being able to do more volume, getting to decision makers, makes it way easier." Erik Martinez, Inside Sales Representative, ConnectAndSell OutboundOnDemand
"50 conversations is a no-brainer. I've been in a spot where I've made 50 dials in a day. In a good day I would have about 5 conversations. Those conversations would catch me off guard, and all the things that I had to do to get people and the phone, so sitting back being able to multi-task and have meaningful conversations with folks and not have to do all the heavy lifting is night and day compared to smiling and dialing." Richard Wilson, Account Executive, ConnectAndSell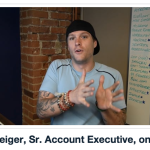 "I use ConnectAndSell for my follow-up tasks. Every sales professional out there has been through the situation where you get the perfect prospect on the line, the conversation goes great, and then they go dark. With ConnectAndSell, I create a follow-up task for every single person I talk to. So whether it's two weeks from now or a quarter from now, I am going to get them on the phone and as we all know this game is 90% timing." Kyle Weiger, Sr. Account Executive
"My favorite thing about ConnectAndSell is getting into large enterprise accounts without having to do a whole lot of work. I load a list of people that I want to talk to, so when I open up large accounts, it's a rush to get those CMOs and VPs of Sales at really large Fortune 500 companies by just a click of the button!" Erik Martinez, Inside Sales Representative