Enterprise vs. Hertz – cheaper? really?
For years as a sales professional I travelled the country and always used Hertz – they knew me, my travel preferences, and their service is impeccable. The business value – 1) I knew I could always get a car, 2) they always knew my preferences as far as insurance and size of vehicle, and 3) they just knew that I don't prepay for gas, so they NEVER asked.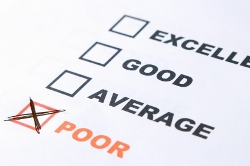 In the past 90 days, I've attempted to make the move to Enterprise Rent A Car to save a few bucks and as a result received POOR customer service. In the past 6 weeks, I've made 4 trips to Denver, CO and used Enterprise Rent A Car each time. Two weeks ago, when I picked up a car the agent said, "we don't show that you have insurance on file and before I can rent you a car, we need to have it on file, or you have to buy insurance from us for this trip". I shared that this was not the case the last trip to Denver or any other trips to San Francisco that I'd made throughout 2013. The agent finally said he would make an exception and let is slide by not making me pay the added Enterprise insurance for the 13 day trip (The cost for insurance would have been $289, which was MORE THAN THE COST OF THE RENTAL CAR for the 13 days).
The following week, I happened to get the same agent. This time I came prepared with my insurance card in hand. So I shared right away with him that I had my insurance card, and I asked him to put in on file as was asked of me last time by Enterprise. Here is where the sales training and approach by Enterprise is fundamentally flawed – this time he changed his tune and said, "who told you that we require proof of insurance, that is only if something happens to the vehicle?".
So now I'm irked! He takes me out to the car, and again uses aggressive (and mis-leading sales tactics) by saying, "do you want to upgrade from a mid-size car to an SUV for just $40?". At which point I said sure, $40 for the 13 days and he said, "no per day". Total rate for the mid-size car = $195, UPGRADE FEE IS NOT $40, IT'S $40/DAY OR $520 – a 266% up-charge. After contacting Enterprise Rent A Car to complain about these aggressive and misleading tactics, I saw an email to Enterprise Management in Denver from Enterprise Corporate and have yet to receive a response from Enterprise Denver. AND to top it off within 2 days of filing this complaint with Enterprise Rent A Car in Denver, I receive a notice that the car was damaged and they are looking for cost of repair (which is not identified in the letter, they just want my credit card number). Mis-leading sales, inaccurate accounting of who caused said damages, a massive mess-up.
What's the morale of the story? Enterprise Rent A Car appears to be the low cost provider – $20 "cheaper" per day, but when you look at the total cost of the solution and value of it, it's actually more expensive, an inconvenience, and provides less value than Hertz!
This is directly parallel to the difference between my company, ConnectAndSell and our only competitor. On the surface, our competitor who charges $125/month for a license appears "cheaper". After using their technology for over 2.5 years, things you realize:
Their is a variable cost of 2 cents/minute for audio (this can be several hundreds or thousands of dollars per month)
Their tool has

several

outages on a weekly/monthly basis
The list building tool takes hours of time per week to manage
There is a cost for a local area code in each market ($625+/month)
There are no real time savings to dialing through their app vs. using a phone
They offer no capability to increase the quantity or quality of calls/day
RESULT – no productivity gains, $50,000 of unnecessary costs
How is Enterprise Rent A Car like my competitor?
They mislead you

into thinking they are adding productivity to your process when in fact they do not.

They add little value

and in fact cause more harm than good.

Their service is not up to par!
Bottom Line – YOU GET WHAT YOU PAY FOR. WHAT MAY APPEAR MORE EXPENSIVE, CAN ACTUALLY SAVE YOU MONEY.