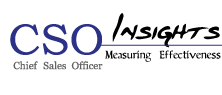 CSO Insights Sales Performance Optimization Study
CSO Insights is conducting their 21st Sales Performance Optimization (SPO) survey, the past results of which have been featured in Business Week, Harvard Business Review, and Fortune.
Having been a follower of this annual study, I would like to encourage you to take part in this new survey. In return for your participation CSO Insights will ensure you receive the full 150+ page analysis when they are published in January 2015, so you can not only benchmark how you did in 2014, but also leverage the insights of your peers to optimize your sales performance in the coming year.
In addition, you will be able to immediately download CSO Insight's analysis on 2014 Sales Management Optimization Study – Key Trends Analysis upon completing the survey.
To take the part in this study, simply click on the following link:
https://www.surveymonkey.com/s/K2HM2W9
Regards,
Chad Burmeister
High Velocity Sales Blogger