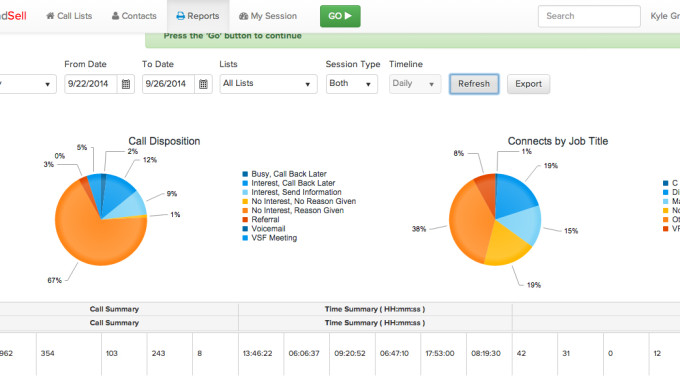 A Millenial's view of 7,962 Dials, 354 Sales Conversations, 42 appointments in just one week!!
Between 9/22 and 9/26 Kyle Green, a recent college graduate out of Florida State University (who recently relocated to Denver, CO) began working on a campaign for Inside View. As shown, using ConnectAndSell, Kyle delivered 354 sales conversations, and 42 appointments!
And here's what Kyle has to say about it!
As I began my career search as a fresh-out-of-college grad, ConnectAndSell was a company that immediately caught my eye! Since it was a growing company, I knew it would lend me an opportunity to grow. Another aspect that allured me was being able to learn the inner workings of what it takes to be successful in inside sales. Needless to say, my first glance impressions are already being fulfilled.
What I love about ConnectAndSell is that every day is a challenge, one that I look forward to. I never thought that I would be speaking to C level decision makers of multi-billion dollar companies so soon after graduating – however, the ConnectAndSell technology allows me to do just that. There is something exciting about never knowing who is going to say hello on the other line. It could be a sales rep for a smaller company or the CEO of a major fortune 500.
As I was wrapping up last week, I decided to use our weekly report tool on the ConnectAndSell system and was absolutely astounded at the result. In a single work week, from September 22nd to the 26th the system dialed through 7,962 people and I had 354 conversations. I can honestly say that I never knew rapid numbers like that were possible. That means 1 in every 22 connections, I am speaking to a high level decision maker. I don't think you can find any other company capable of such results. ConnectAndSell has provided me with everything that I need to be successful in the professional world.