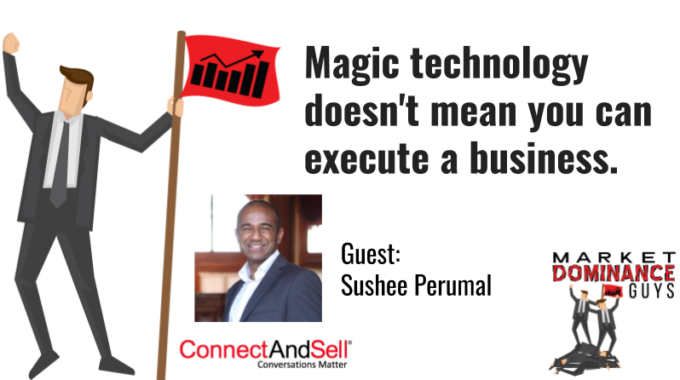 Judiciously use the money to lubricate the process.
Chris typically advises partners and clients to avoid taking VC money if at all possible. He especially says that if you already have a business that is steadily growing. His friend, and guest, Sushee Perumal didn't follow this advice, and yet it worked out for him and his company, MaxSold. You need to hear why it did. Sushee is definitely the exception.
Listen to the episode here:
Chris and Corey's guest, Sushee Perumal, CEO of MaxSold tell us to take cautious steps when the tank is full of funding. Some of the highlights in this episode include:
Driving the concept of MaxSold's tagline, "From the sponge under the sink to the Ferrari in the driveway, we sell everything in two weeks." concept is the fact that live auctions were not and are not meeting the market needs. Sushee is the perfect example of Market Dominance, as well as a very likable person to know and work with. Hear this first of a two-part interview about the shortest path to market dominance.
From owning an airline because he wanted to cut his teeth in entrepreneurship, to dominating the market in relocation and downsizing services. Chris noted, "This is the end of the commute economy." This is because the relocation option we have completely turned this upside down in the recent months of COVID-19 – work from home forever.
Sushee explains how he chose to maximize the opportunity by minimizing the risk. Just because you have magic technology, doesn't mean you can execute new business.
Chris asked him, "Does this assessment process take 10 years before you put gas in the tank?" You'll have to listen to the surprising answer. How did he make the transition? He learned that you don't dominate by hiring a bunch of C-Suite staff. He also learned from his failed and struggling competition that you don't throw expensive parties as part of your ROI plan.
Be incremental. Be resourceful. Ask for advice – humbly. It helps that he embodies the value of being humble and likable.
Catch more episodes by subscribing at Market Dominance Guys. They are in all of your favorite podcast venues.