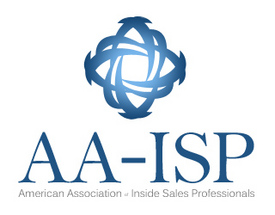 The AA-ISP Member Voter "Cheat Sheet"
Every year, the American Association of Inside Sales Professionals asks for members (and non-members) to vote on the Top AA-ISP Members in several categories. Until now, there has never been a "cheat sheet" for ideas on who to vote for.
Here are some ideas below! Feel free to fill in whomever you think is worthy in each category!
Link to provide your VOTES: https://www.surveymonkey.com/s/2015AnnualAwards
Potential vote ideas:
AAISP Spirit Award – Lauren Bailey, Factor 8, lb@factor8training.com
AAISP Innovator Award – Chad Burmeister, VP Sales & Marketing, ConnectAndSell,chad.burmeister@s16309.p20.sites.pressdns.com (for "tricking Chris Beall" into launching OutboundOnDemand!) OR Kyle Porter, CEO, SalesLoft (massive growth, incredible leader, incredible company).
AA-ISP Excellence in Execution Award – Chris Beall, CEO, ConnectAndSell, chris.beall@s16309.p20.sites.pressdns.com (for helping "big business" sell the concept of inside sales internally) OR Richard Brasser, CEO, rFactr (Oracle, Microsoft and more choose Social Port, nuff said!)
AAISP Corporate Culture Award – Ryan Azus, SVP Worldwide Sales, RingCentral OR Steve De Marco, VP, WW Sales, Xactly Corp.
AAISP Executive of the Year – Shannon Johnson, VP of Sales, rFactr OR Sean Murray, Sr. Director, North America, Xactly Corp. OR Kyle Porter, CEO, SalesLoft, kyle@salesloft.com
AAISP Chapter Award – Excellence in Execution – Atlanta Chapter (The Atlanta Tech Village is one of the best entrepreneur hubs in the country – the AAISP in Atlants is unstoppable) OR Colorado Chapter (from < 15 attendees/meeting to > 50/meeting in 2014!)
AAISP Chapter of the Year – Colorado Chapter (from < 15 attendees/meeting to > 50/meeting in 2014!)
AAISP International Chapter of the Year – India – Bangalore Chapter – Kiran Upadhya, kiran@uni-solutions.net
And don't forget to vote for the Top 25 Most Influential Inside Sales Professionals! Link to vote: https://www.surveymonkey.com/s/2015AA-ISPTop25
Some ideas for who to vote for:
Richard Harris, Owner, The Harris Consulting Group – This guy knows Inside Sales!
Louie Bernstein, has published 125 YouTube videos (and counting) and a free sales training course
Kyle Porter, CEO, SalesLoft
Jon Birdsong, CEO, Rivalry
Bridget Gleason, VP Sales, Yesware
Chris Hardeman, VP Sales, ActOn
Trish Bertuzzi, President/Founder of The Bridge Group
Tawheed Kader, Founder, ToutApp
Chris Beall, CEO, ConnectAndSell
Chad Burmeister, VP Sales & Marketing, ConnectAndSell
Kevin Gaither, Vice President of Inside Sales, Zip Recruiter
Matt Heinz, CEO, Heinz Marketing
Mike O'Neil, LinkedIn Rock Star, Integrated Alliances
Mike Smalls, CEO, Hoopla